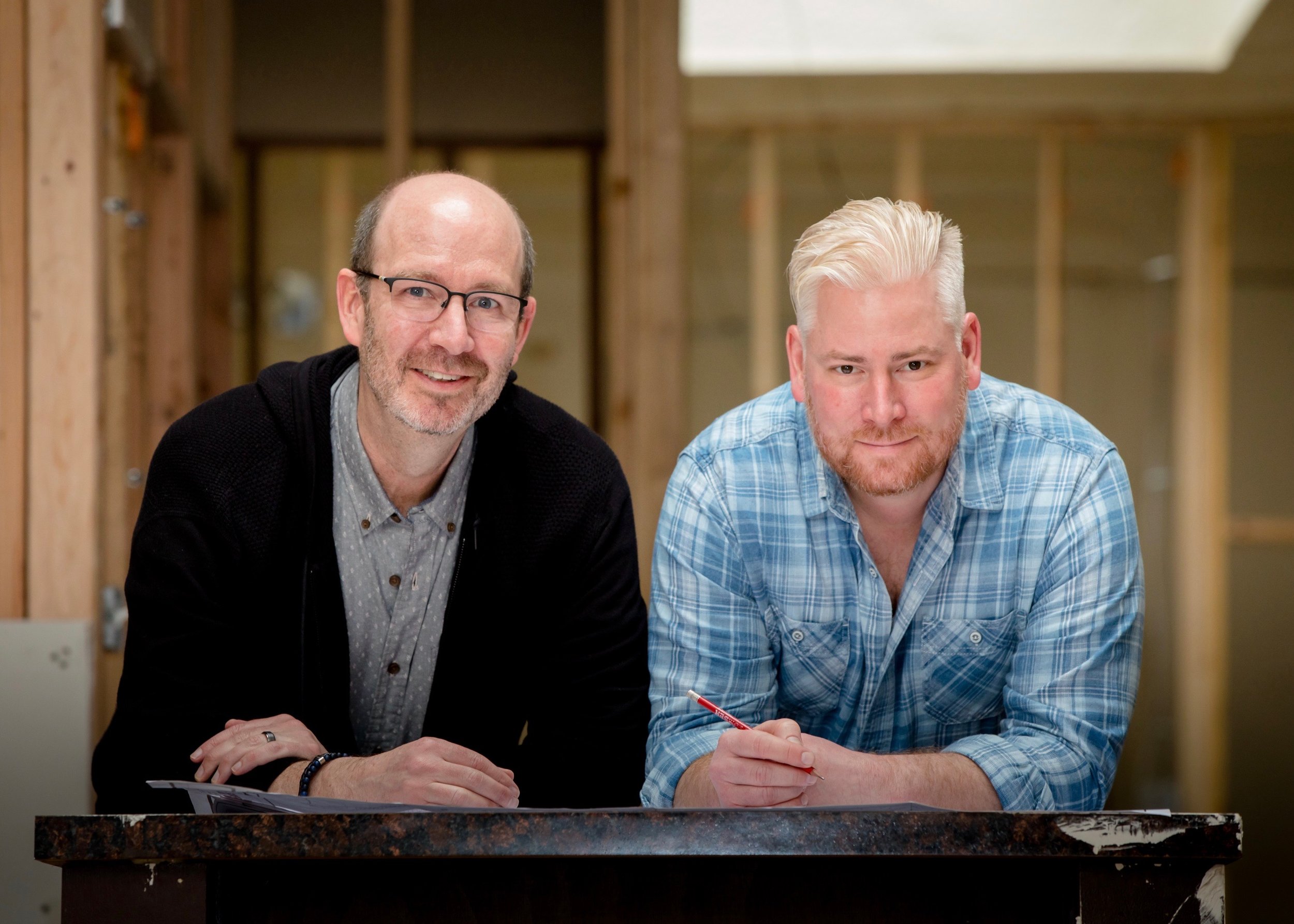 READS & COMPANY is a partnership between ROBB CADIGAN (left) and JASON HAFER (right), two friends who share extensive experience in retailing, marketing, and a lifelong passion for books and community

WE OWE IT ALL TO JOHN IRVING

The guys met many years ago when Robb walked into Jason's former bookstore with a first edition of John Irving's THE WORLD ACCORDING TO GARP under his arm. (He was going to meet John Irving the next day at an event and he wanted some advice about the book.) Robb became a regular customer at Wolfgang and we soon discovered we had a shared love of crime fiction, strong writing, book clubs, and the town of Phoenixville.
From time to time, we talked — daydreamed, really — about maybe one day opening a bookstore together. We watched carefully as Phoenixville went through its renaissance and more and more businesses started to flourish. Then our daydreams got more serious.
To test the waters, we put together a pop-up holiday bookshop, hosted by our friends at Steel City Coffeehouse, and we were blown away by the enthusiasm area folks had for our curated selection of books and gift suggestions. And old Wolfgang customers were clearly thrilled to see Jason back in the bookselling game. That experience gave us the confidence to develop a business plan.
We are both longtime Phoenixville guys, with active families dedicated to the schools, businesses, and organizations here. Jason and his wife Rachelle (a teacher at Spring-Ford Area High School) have two amazing kids who soon will be hard at work telling us how to run a fabulous children's section. Robb and Joan (Executive Director for the Phoenixville Community Education Foundation) also have two wonderful kids, uh, young adults, who will be making their recommendations for titles in the sciences and true crime genres.
That's us. Two friends who care deeply about books, literacy, and this community. We can't wait to share that passion with you at READS & COMPANY.


JASON HAFER is the former owner of the beloved Wolfgang Books in Phoenixville. With a long career in bookselling, Jason brings extensive bookstore expertise, a heart for customer service, and a genuine desire to help readers find just the right book. Wolfgang customers know that Jason has a knack for recommending your next great read.
ROBB CADIGAN is the author of the popular novel, PHOENIXVILLE RISING, and a former Television/Marketing executive at QVC. Robb is a devoted student of the writing craft, an unabashed fanboy of great stories, and a Forrest Gump of the literary world, with connections and friendships with an impressive group of bestselling and emerging authors around the world.